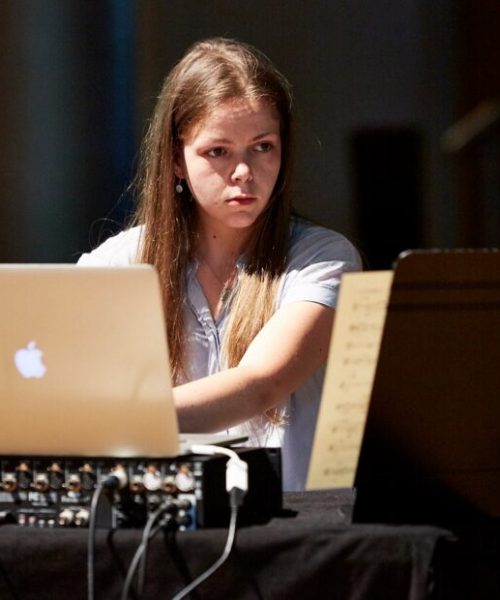 Current projects include a 20-minute solo basset clarinet piece for Carl Rosman [Skyppan]; and a commission from the City of Birmingham Symphony Orchestra to celebrate the orchestra's centenary [Parti Di-ffiniau]. Upcoming events include the UK premiere of Gêmdisyn, for solo E-flat clarinet, by Carl Rosman in February; and a performance of In the Crypt, for French horn and live electronics, by Ben Goldscheider and Richard Uttley in March.
Please visit the events page for information concerning forthcoming engagements.
Gêmdis (2020), for solo E-flat clarinet and ensemble, has been released by Carl Rosman & Ensemble Musikfabrik (cond. Christian Eggen). The title 'Gêmdis' combines the Welsh words for 'game' and 'dice', and like a desperate gambler, the music keeps returning for another roll of the dice.
Gêmdis, for solo E-flat clarinet and ensemble, was recorded by Martin Pilger & Ensemble Musikfabrik in November and is expected to be released shortly. Meanwhile, two pieces have been recorded live to video tape and are due to be released as part of the ensemble's Lockdown Tapes series soon.
Datod, for violin and piano, received its premiere in Cologne yesterday. Performers Hannah Weirich and Ulrich Löffler absolutely blew me away with two(!) fabulous performances. A recording of the second performance, which was especially moving, can be accessed via this post.
To view previous articles please visit Bethan's blog
"An exacting musician with very high standards and an exceptional ear. A pleasure to work with."
"The great thing about working with Bethan is she knows exactly what she wants."

"It's a pleasure to work with somebody who knows their music so well and who is so attentive."