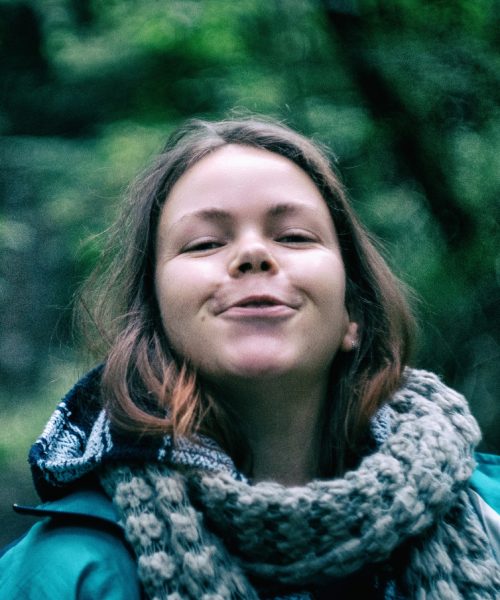 Bethan Morgan-Williams (1992-) is a composer who writes quirky, rhythmically-intricate music. Described as "marvellously oblique and obscure" [5against4] while being "rooted in something ancient and folky" [The Telegraph], Bethan's music finds motivation in the apogee of musical performance. With composer-performer collaborations a key part of Bethan's practice, each piece is written according to the characters of those involved.
Bethan is currently based in mid-Wales, having studied predominantly with Gary Carpenter at the Royal Northern College of Music in Manchester, and Diderik Wagenaar at the Royal Conservatory in Den Haag.
Current projects include the making of a solo trumpet piece for the Royal Academy of Music's bicentenary; a trio (clarinet, violin & piano) for the National Youth Orchestra of Wales' 75th Anniversary celebrations; and the CoDI opera project with composer Robert Fokkens and writer/dramaturg Sophie Rashbrook, which comprises a series of workshops and culminates in the performance of a standalone aria by soprano Sarah Dacey. Current preoccupations include the use of text as a means of generating rhythmic content; and the effects of revisiting material interactions on the substructure of 'finished' pieces.
Upcoming events include repeat performances of Devil's Elbow by Uproar Ensemble in Bristol, Caernarfon & Montpellier; a performance of Traces of a Disco by Psappha Ensemble in May; and the world premiere of Reverie by Elen Morgan-Williams on 3 June at the Guildhall School of Music & Drama.
Gêmdis (2020), for solo E-flat clarinet and ensemble, has been released by Carl Rosman & Ensemble Musikfabrik (cond. Christian Eggen). The title 'Gêmdis' combines the Welsh words for 'game' and 'dice', and like a desperate gambler, the music keeps returning for another roll of the dice.
Gêmdis, for solo E-flat clarinet and ensemble was recorded by Martin Pilger & Ensemble Musikfabrik in November, and is expected to be released shortly. Meanwhile, a solo version of the same piece and a violin and piano piece from last year – Datod – have been recorded live to video tape and are due to be released as part of the ensemble's Lockdown Tapes series soon.
Datod, for violin and piano, received its premiere in Cologne yesterday. Performers Hannah Weirich and Ulrich Löffler absolutely blew me away with two(!) fabulous performances. A recording of the second performance, which was especially moving, can be accessed via this post.
To view previous articles please visit Bethan's blog
Subscribe to Bethan's Newsletter
"An exacting musician with very high standards and an exceptional ear. A pleasure to work with."
"The best thing about working with Bethan is she knows exactly what she wants."

"It's a pleasure to work with somebody who knows their music so well and who is so attentive."