Yesterday saw the premiere and subsequent performance of Datod, a piece for violin and piano that I wrote over Christmas. Commissioned by the Park Lane Group for a Robert Gerhard memorial concert in May, the original premiere was sadly cancelled due to the pandemic. After hearing that news, I sent the score to Hannah Weirich and Ulrich Löffler, violinist and pianist with Ensemble Musikfabrik who, conveniently, happen to share a roof. It was a long shot, or so I thought, because at the time no one was giving live performances and things were looking somewhat bleak but, fast-forward a couple of months or so and BOOM: not just a premiere but a second performance too! I feel incredibly fortunate to know these two.
The second performance of Datod yesterday was absolutely staggering. Even hearing it via a live stream on Facebook, I was absolutely blown away by Hannah and Uli's communication and musicianship. I wrote to them directly afterwards (once I'd caught my breath!) to try and capture the essence of what I was feeling. I couldn't quite get there in words, and I'm quite sure the words I did send will have hinted at a state of elation one tends only to experience when not entirely sober. Anyway, the closest I can get is this: it felt like my heart had grown to pervade my entire body.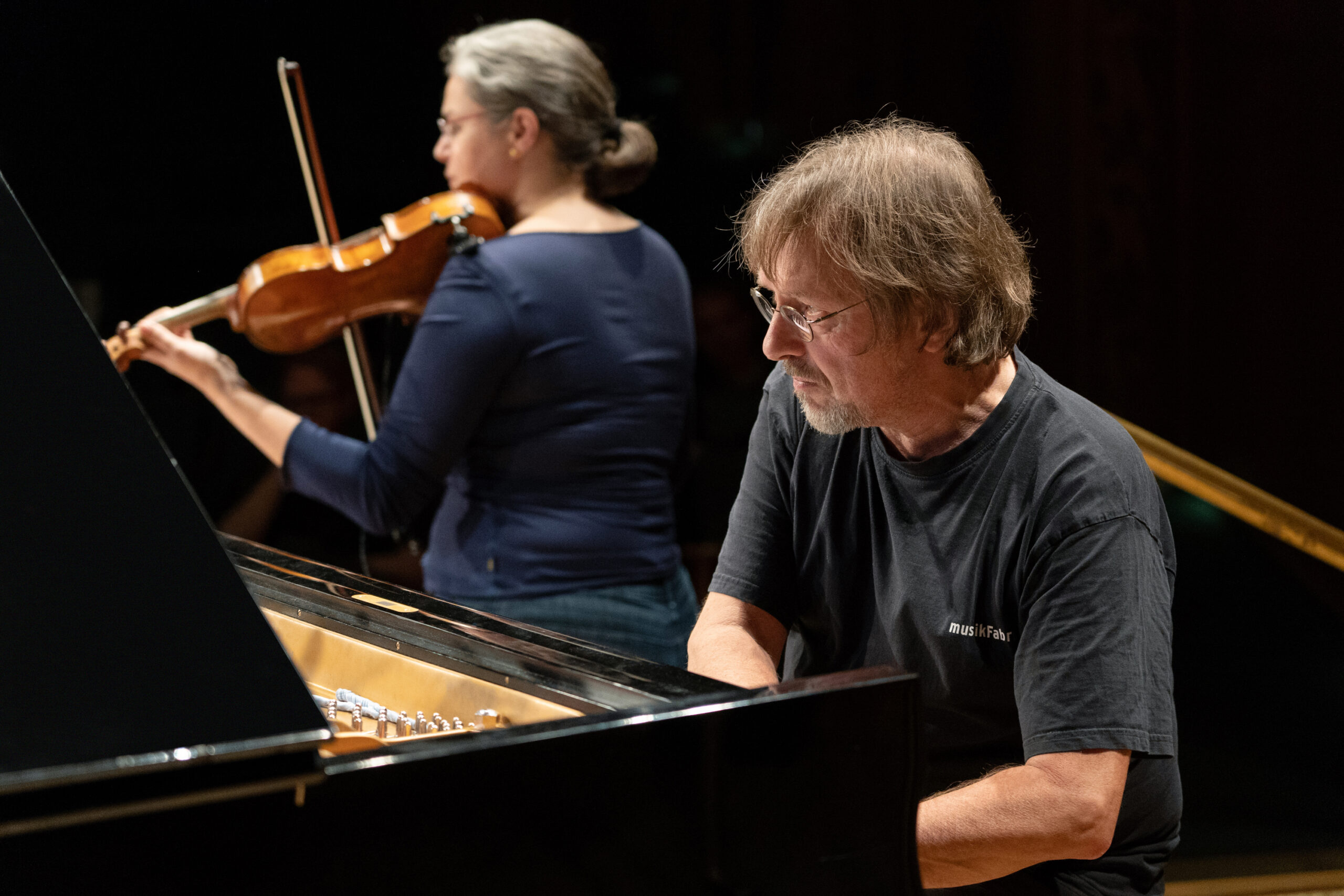 The anxiety I feel when hearing my music played is only just about stomachable. I am used to this. Rewind a few years and I would often go from beginning to end with my head buried deep in my lap. It was the only way I could get through it. Thankfully, I have managed to move past that phase and am now able to embody the tension and disquiet I feel so those around me are not aware of it. (That is, unless they try to hold my hand, at which point they will quickly discover I am perspiring at a most-unusual rate.) Anyway, why am I telling you this? Because yesterday, and for the first time, the anxiety transformed into euphoria. It was the same feeling, but the other side of that feeling somehow. It was as though I'd been dragged through the usual panic attack but had reached the other side for the first time. I found myself in a sort of fairyland. Can it be that anxiety and euphoria are one and the same? 
Needless to say, my emotions got the better of me yesterday. I was asleep on the sofa by about 8pm it had been that draining. I hadn't been expecting to get to hear the piece so soon, and I couldn't have asked for anything more. Even comments I had made only 45-minutes before the premiere had been taken on board. Hannah and Uli really are something special, and hearing them put this piece together has been like a dream come true (if from a distance). Sally Groves, who the piece is dedicated to, was on the phone almost as soon as the clapping started. I was still in a state of speechlessness at that point but, I was overjoyed to hear her reaction and I am thrilled that I chose to dedicate this piece to her. Oh, and a win for Welsh-speakers: I am told Uli has now mastered the pronunciation of, "iechyd da." Congratulations Uli!
Missed it?
Not to worry! Click on the 'play' button below and you will be able to listen to the second performance.