In November 2017, I embarked on my first ever trip to Germany. Cologne was the destination, with the journey consisting of several trains across The Netherlands and North Rhine-Westphalia. I was travelling with three colleagues from the Royal Conservatory in The Hague, all of whom chose to spend the trip sounding onomatopoeic animal noises while comparing them across different languages. It was incredibly entertaining! And it remains my first memory of Germany.
We arrived in Cologne, exited the station, and were immediately struck by the pounding dominance of the (aptly titled) Dom. The towering building billows out to fill the square, smothering all in its ashen path. I felt small. Very small. And the journey of bellows and bleats now seemed the stuff of a world faraway.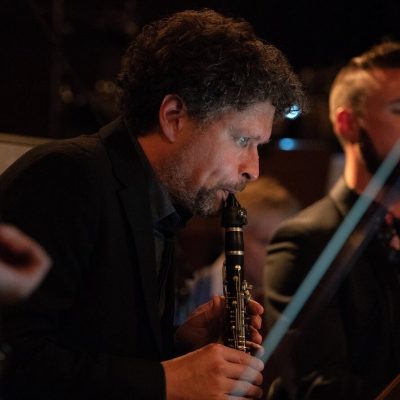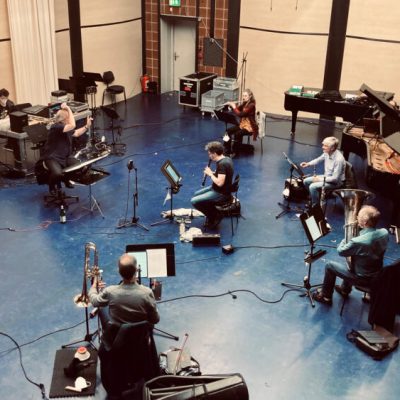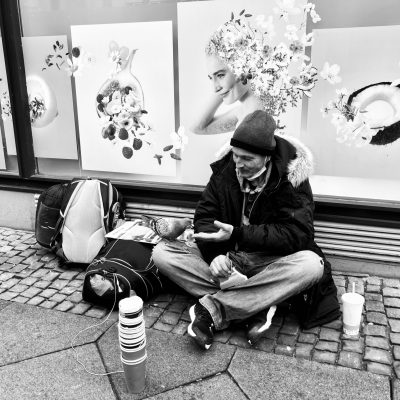 What were you doing in Cologne?
We were there because we had been selected to take part in the Composer Collider Europe programme; a three-year residency with Ensemble Musikfabrik involving twelve composers from three participating universities/colleges (HfMT Köln, AUTh & The Hague).
My first 24-hours in Cologne were not the easiest, but I think I made an impression. The first day with Ensemble Musikfabrik consisted of a large circle, introductory speeches and refreshment breaks (you know the sort). What I hadn't bargained for was the video cameras, nor had I been told that I would be expected to speak, in front of everybody there, into said video cameras. The pressure was mounting. My body turned to drums. And just before it was my turn to speak, out I went. 
Fast forward a couple of years (trust me, there is far too much to tell of that period here) and it was my turn to begin writing for the ensemble. I had just returned to mid-Wales having spent a few days with the players, and ideas were forming.
Creating the piece
The first thing I decided on was the instrumentation. Carl Rosman (clarinet) had already expressed an interest in developing a piece for solo clarinet and ensemble, and I had previously negotiated the core line-up with the project manager. Certainties and ideas came to equal:
flute = piccolo
oboe = cor anglais = slide whistle
solo clarinet in Eb
horn = slide whistle
trombone = slide whistle
tuba = slide whistle
piano = slide whistle
I had a sound-world, and I was engrossed. Having already spent two years with the ensemble, I had a vast collection of new ingredients with which to work. Ensemble Musikfabrik comprises a syndicate of virtuosos which, to a young composer, is the painter's equivalent of a palette comprising colours of the entire electromagnetic spectrum.
I began generating material by means of applying text to rhythm, on a macro level. This is a technique I have been exploring for about a year or so now, but it changes from piece to piece. This time I chose an acutely short note-duration as my unit and as one would predict, this gave rise to intricate, lively material.
Various systems were used in order to manufacture and develop the components of this piece but as the narrative progresses, emerging 'substances' expand to assume all the attention. Laws crumble and materials are freed; simply present in mind and hand.
About the piece
The piece – Gêmdis – moves through a series of different moods, with some returning in a cyclic fashion and thus defining the pieces' structural foundations. There are five 'beginnings'. This beginning material is frantic and ferocious, but is followed by a playful, more fragile version of itself. How this fragile, giocosso-type material evolves is different each time. Sometimes it simply drifts away; other times it grows to become a new and distinct 'substance'. These newly-developed 'substances' present juxtaposing eventualities in connection with the opening material, while giving space and depth to the piece as a whole.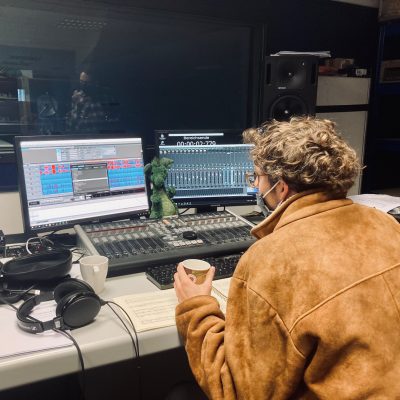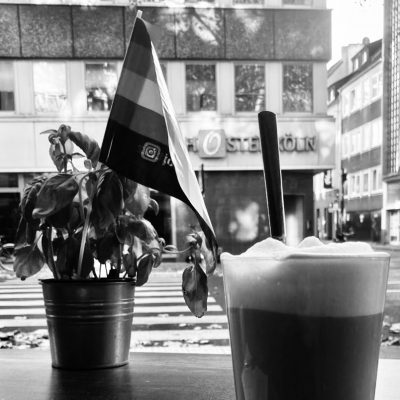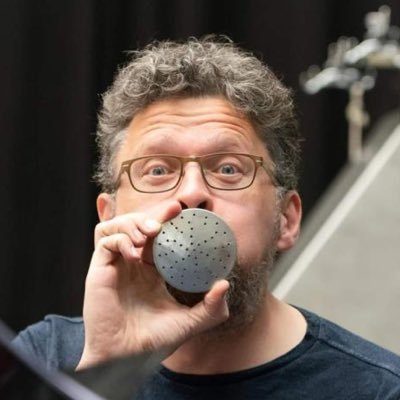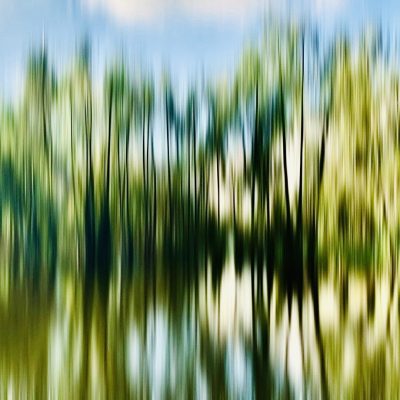 How did the recording sessions go?
Everything happened in just two days, from the first read to the completion of a studio recording. Martin Pilger had been called into record the sessions just the night before (with the previous engineer having gone down ill) and he was brilliant! I was very glad to have him by my side.
Christian Eggen (cond.) guided us through the sessions like clockwork. The conductor's duty to keep time cannot be underestimated in contemporary music and Christian understands this well. He is a fine musician with a generous spirit; flawless rehearsal technique; and just the right amount of humour. Thank you Christian!
And what about the players?
Were it not for Carl, this piece would not have made it onto the page. Carl is a wonderful person and an unbelievable talent. He has played a crucial role not only in the realisation of this piece but also in its making. Since our meeting in November 2017, Carl has taught me a great deal about the clarinet and its various capabilities. His enthusiasm for the instrument is infectious and there is very little he won't try.
Carl is the rime and reason behind this music and I am hugely grateful to him for everything he has contributed to this piece. He is joined on this recording by Helen Bledsoe (flute = picc), Peter Veale (oboe = cor = slide whistle), Christine Chapman (horn = slide whistle), Bruce Collings (trombone = slide whistle), Melvyn Poore (tuba = slide whistle) and Benjamin Kobler (piano = slide whistle). I am beholden to each and every one of them for their dedication, enthusiasm and expertise.
Words cannot describe what this project has meant to me… there has been laughter and tears and everything in between. I would like to thank all of the players, technicians and support staff for quite literally bringing dreams into reality. Prost!
So what will I hear?
You will hear a dazzling display of winds, executed by soloist Carl Rosman and Ensemble Musikfabrik (cond. Christian Eggen). The recording was made by Martin Pilger at the Studio of Musikfabrik in Cologne, 3-4 November 2020.
According to Carl, the piece is "ornate, but also transparent." The difficulties lie in the fact that its "character is constantly changing, so it's easy to get wrong-footed."
Programme note

The title 'Gêmdis' combines the Welsh words for 'game' and 'dice', and like a desperate gambler, Bethan Morgan-Williams' piece for E-flat clarinet and ensemble keeps returning for another roll of the dice. Each new start takes the music through a different set of emotional states, from playful to down and dirty, from the still voice of conscience to the horns of a dilemma. Or does it keep returning to the same place?
Are things out of control, then, or not?
Gêmdis was written as part of the Composer Collider Europe programme for Carl Rosman and Musikfabrik.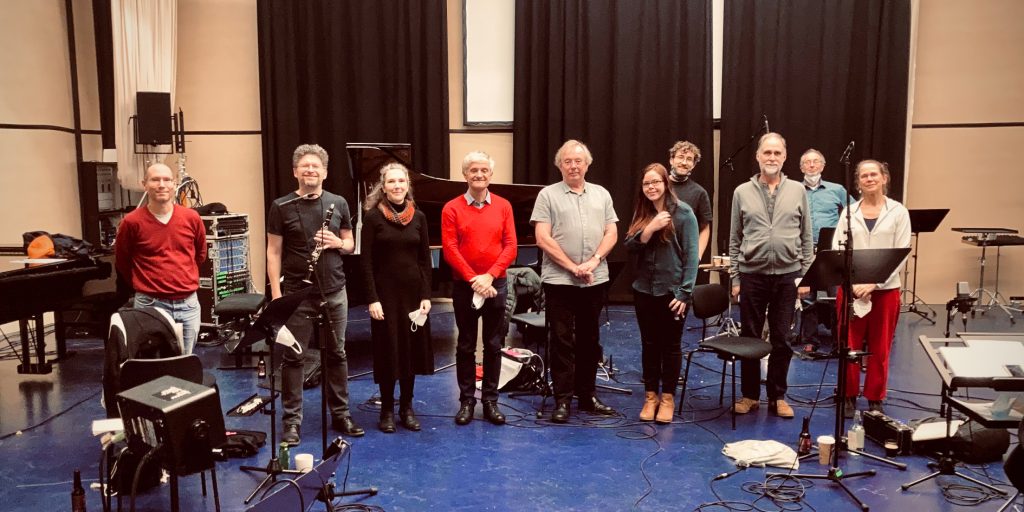 Who took the photographs featured in the carousels?
Headshots (Carl Rosman) were taken by Janet Sinica. You can access her website here.
All other photographs were taken by Bethan Morgan-Williams, with the exception of the hedgehog and the mask, which was taken by Carl Rosman.
Where can I hear the other CCE recordings?
You can access them here.